Chairman's message to world's leading statisticians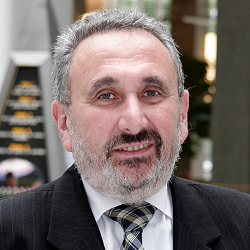 Dear Colleague:
The Higher School of Economics (HSE) in Moscow is one of the leading economic Universities in the Russian Federation. As a national research university HSE combines graduate education with cutting-edge research that builds on almost two decades of HSE leadership in Russia in social and economic sciences.
The Higher School of Economics has 31 faculties and schools offering programs for over 16,000 students (around 13,000 undergraduate, 3,250 master's, and around 600 doctoral students). HSE also acts as a Russian knowledge hub for postgraduate and continuing professional education offering over 200 programs for 12,000 students. Presently the Higher School of Economics is the largest center for socioeconomic analysis in Russia and Eastern Europe implementing about 400 basic and applied research projects through 38 research institutes and centers, 11 international research labs, and joint research projects with international partners.
In the recent years, the institution has been trying to improve statistical education for bachelor and master level economic students. In addition the institution has established the International Institute for Statistical Education (IISE) which is training professional statisticians from Russia and other neighboring countries.
The HSE would like to improve curricula for bachelor and master level students and to improve training abilities at the IISE. They would like to establish cooperation with leading institutions in other countries to help to improve statistical education.
The higher management of the HSE has decided to establish and International Advisory Panel to advise on development of a strategy for statistical education and research in economic and social statistics; help and advise in developing curricula as well as content of courses on economic and social statistics, by engaging foreign professors from leading schools in the field; help to attract foreign lecturers in statistics to teach short courses in HSE, help to establish cooperation agreements between HSE and foreign institutions for student exchange, establish partnerships with foreign universities with an aim to issue common certificates, etc.
I have been asked by management of HSE, in my personal capacity, to establish the International Advisory Panel and Chair it.
I would like to invite you to join the International Advisory Panel. It is envisioned that the Panel will in most part communicate by virtual means. However, we would like to have face to face meetings from time-to-time. The meetings can be organized back to back with international meetings where some of the Panel members are participating (UN Statistical Commission, Conference of European Statisticians, ICP Executive Board and others).
Misha Belkindas



More information on the HSE International Advisory Panel on Statistics:
Have you spotted a typo?
Highlight it, click Ctrl+Enter and send us a message. Thank you for your help!